Giovanni Melton was shot and murdered by his father Wendell Melton on 11.2.2017, and he served 4 months in jail until March when District Attorney Sandra Dijiacamo, allowed Wendell's bail to be reduced from $808,000 to $200,000. He paid less than the total cost of Giovanni's funeral, services, burial, and marker. It was utter disgust and several contacts with the District Attorney's office that fell on death's ears. Veronica Melton Giovanni's mother made every attempt, to explain that her son's murder was a hate crime but no one would listen, even having the testimonies of neighbors that lived next to Giovanni, witnesses from family members, school friends of Giovanni, and D. A. Sandra Dijiacamo did not want to charge Wendell with a hate crime. Sandra admitted to Veronica that she was going to charge Wendell with the hate crime, but she decided not to because she did not want to lose the case. Not that she did not have the proof, but she did not want to lose the case. Four and a half years later the D.A. quits her job and it was the best thing that could have happened to the case. Veronica was contacted by a new D.A. Palal, and a wonderful assistant Nichole Palacio, they were God-sent. Veronica had lost all hope as she kept attending court cases after court cases and having the murder case postponed by the defense Jonathan McArthur and the previous D.A. going along with whatever the defense wanted along with the Judge. She once thought that she would end up dying before the murderer would be convicted of first-degree murder.  Finally, on May 4, 2022, Wendell Melton was convicted of 1st-degree murder, 1st-degree child abuse with substantial bodily harm, and 1st-degree child neglect. Wendell Melton was sentenced on November 16, 2022. Giovanni's Mother, Veronica gave her testimony to the Judge. 
Shortly after Judge Michelle Leavitt gave sentenced Wendell Melton 28 years to life, with the possibility of parole after he serves 28 years.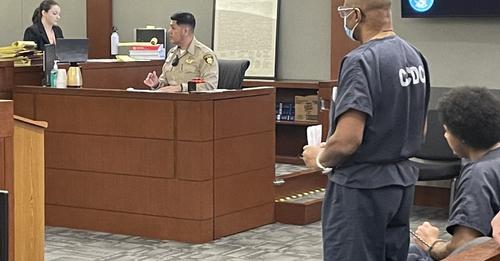 https://www.fox5vegas.com/2022/11/16/las-vegas-man-sentenced-death-14-year-old-son/  
https://www.reviewjournal.com/crime/courts/man-sentenced-to-life-in-prison-for-killing-14-year-old-son-2677687/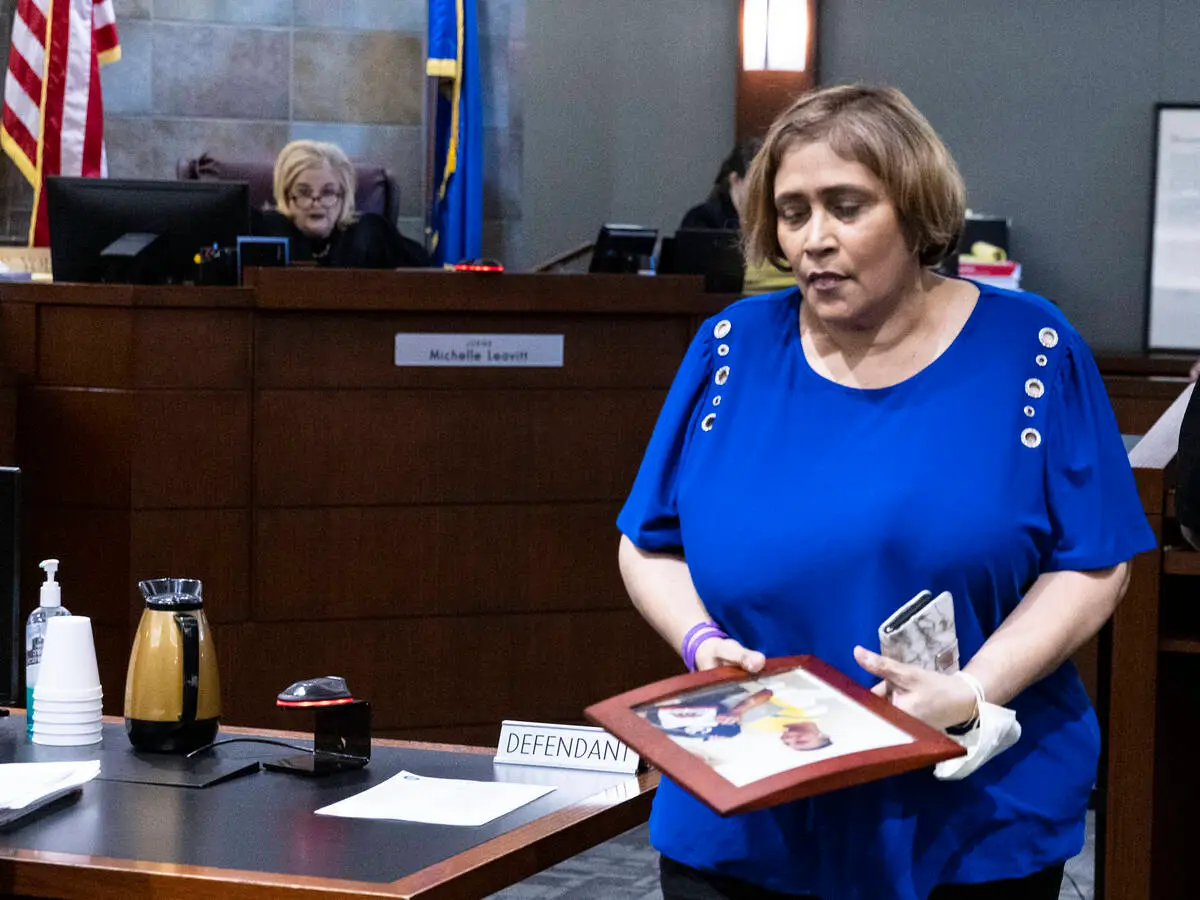 The testimony given to the judge by Giovanni's Mother, Veronica: 
My name is Veronica Melton, and I am the mother of Giovanni Melton.
My son was born on 2/18/2003 and was shot and murdered on 11/2/2017 by Wendell D. Melton his own biological father. During his short life he had many friends that loved him, teachers, church members, karate friends from the dojo, his grandmaster teachers, and our whole family. He was very talented, intelligent, loveable, affectionate, popular and very caring of his family and friends. The murder of my 14 year old son has destroyed our family for 1,840 days which is 5 years and 2 weeks today. I have waited for this day since 11/2/2017 for justice. The murderer was not a bank robber, a drug addict, or a thug. It was GIOVANNI'S own biological father Wendell Demetrius Melton. I need to repeat this His OWN FATHER, not by a stray bullet, but with a bullet with his name, a bullet with a mission, a bullet to silence Giovanni's beautiful voice, a bullet of hatred, a bullet owned by his own father to silence his life forever. A bullet that I was not able to jump in front of, a bullet that I did not imagine would come from the man that gave him life. A hand that rocked him to sleep, a hand that held him when he cried when he was an infant. My son's death has affected my mind, my spirit, my body, my soul, my sanity, concentrating, completing tasks, and sometimes I do not want to do anything and getting out of bed is a huge task. The day Giovanni died, I died. This senseless death also worries me because my other son suffers greatly by Giovanni's murder. My other son has already told me that he has previously contemplated suicide, because of the deep depression he experiences and refuses to seek help. I know that your honor has heard hundreds of thousands of testimonies pouring into your courtroom and tears from mother's who have lost their loved ones.
But I want you to know this. When a person experiences Trauma like this it stays in your body. It affects your nervous system, autonomic system, immune system, your muscles, and stress hormones. After my son was murdered I feel like life is not safe, I experience a chronic feeling of danger, I am hypervigilant, and stuck in a trauma response, that stops me from having long periods of joy in my life. Trauma affects your immune system and creates excessive stress. I have been diagnosed with complicated grief since the murder of my son Giovanni. The loss of my son was such a traumatic event, my dreams were destroyed when he was shot and killed. Grief actually means robbed. And that is exactly what happened to our family we were robbed of Giovanni's life when he was only 14 years old. The only life accomplishment Giovanni had was graduating from Middle school 3 months before his death. I have experienced intrusive thoughts surrounding his death, the way he was shot and killed. Wendell was prohibited from owning a firearm due to domestic violence against me when we were married and yet they found 6 guns in his home the day of Giovanni's murder. I also have Intrusive nightmares, emotional numbing, the loss of my son has affected me being around children that may look like my son, a shattered self identity, who am I if I am not Giovanni's mother?
The first 5 months after my son was murdered, I no longer wanted to live. I had pressure over my chest for those 5 months that felt like 20 pounds of pressure. I cannot attend my LDS church where my child was raised in. I tried twice and had to run out of the church crying because I could see families with their children, and all his friends that have now graduated from high school and continued on with their lives. Every holiday, birthday, date of death, developmental mile stones when he would have had a driver's license, graduated from high school, the idea of him marrying one day is completely shattered. Socially it impacts me when meeting new people and they ask about how many kids do I have.
I have been affected by the order of life, I was supposed to pass away before my children. Burying my child was the hardest thing to do, seeing his lifeless body laying in his casket and knowing that it was Wendell that put him there is devastating to me. Wendell paid less for his bail than the cost of Giovanni's funeral and burial.
I want to wake up from this nightmare and have my son walk in the door with his smiling face, hearing his beautiful voice and calling me mom. All I have now are videos, pictures and trying to remember the hugs and kisses I gave my child. Your honor, You do not want to be me. You do not want that knock at the door with a police officer and a woman, who doesn't want to speak out of turn, to let you know she is the coroner that identified your child's body.
I ask that your honor give Wendell Demetrius Melton the maximum amount of prison time, for the 1st degree murder, 1st degree child neglect, and 1st degree child abuse with substantial bodily harm. This coward shot his OWN unarmed 14 year old child in the chest, left for dead and has the audacity to file an appeal before he has even been sentenced to jail. This monster should be made an example of and I ask that you send a message to Nevada that we don't go around shooting our own children and get away with it. This monster was on house arrest for 4.5 years and when I tell this story to outsiders they cannot believe that he was granted house arrest for such a violent crime and his previous domestic battery against me prohibited him from owning a gun and yet he owned six.
I believe A life for a life. My son will never come home to his family neither should Wendell. He destroyed many peoples lives and I wish him a very LONG life behind bars, and to never return to his family alive just like my son Giovanni never will. Your honor you do not want to be in my shoes, I hope you will never experience the brokenness of losing a child to murder. Again I am asking for Wendell to never walk out of prison, if he could be sentenced to 50+ years that would be a good start and no possibility of parole.